EPC & Project Services
.
Troy provides full project management/engineering, procurement and construction (PM/EPC) services for all project types based on the needs of each specific client and project. 
Engineering, Procurement & Construction
With project management & controls, digital tools, and other integrated services
Versatility
To perform EPC/turnkey programs, construction, or any combination of services.
Flexibility
To perform developmental or pre-construction services and incorporate additional services as the project advances

Integration of Survey, Land & Environmental
Project Management
Troy provides a digital project management and controls system that assesses actual performance versus baseline projections throughout all stages of the project lifecycle. All inter-related disciplines are proactively managed and informed by real-time data and analytics.
| | |
| --- | --- |
| CAPEX/TIC Estimating | Risk Management |
| Cost Control & Forecasting | Quality Management |
| Schedule Control | Contract Conformance & Administration |
| Earned Value | Supplier Performance |
| Integration/Interface Management | Health & Safety Monitoring |
| Progress Reporting | Change Management |
| Document/Data Management | Close-out/Turn-over Packages |
Feasibility & Project Development Support
Troy provides high-end services in the feasibility and project development phases of projects and programs. These services provide significant value in assisting clients in the evaluation of critical project drivers and conditions. Key services include the following:
Project Cost Estimating/Forecasting
Overall Project Scheduling
Risk/Mitigation Evaluations
Alternatives Analyses
Benefit/Cost Analyses
Feasibility Studies
Pre-FEED & FEED Studies
Route/Site Selection Evaluations
Fatal Flaw Evaluations
Research & Regulatory Agency Consultation
Risk Management
Troy facilitates quantitative risk management and mitigation processes throughout the project lifecycle, in close collaboration with client/owner personnel and key inter-functional project disciplines. The following are key steps involved in the risk management process:
Developing initial risk register and mitigations, and distributing for client and other key personnel review
Conducting initial risk workshop to collect feedback and recommendations
Updating risk register
Facilitating routine risk workshops from project commencement through end of construction
Continuously upgrading risk register/mitigations
Incorporating mitigation measures into project execution actions and verifying results
Digital Systems & Tools
Troy implements an integrated system for capturing and reporting project data using a combination of quickly deployable, industry-standard solutions and proprietary, customized configurations. Troy approaches every project activity with a forward-thinking, digital mindset.

Constructability
Troy is well-versed in all aspects of constructability for pipeline and facilities projects. Our ability to integrate constructability with construction planning and construction services sets us apart in the industry. Our construction managers, specialists, and superintendents are engaged with our engineering and GIS personnel from the earliest project phases on all key constructability disciplines.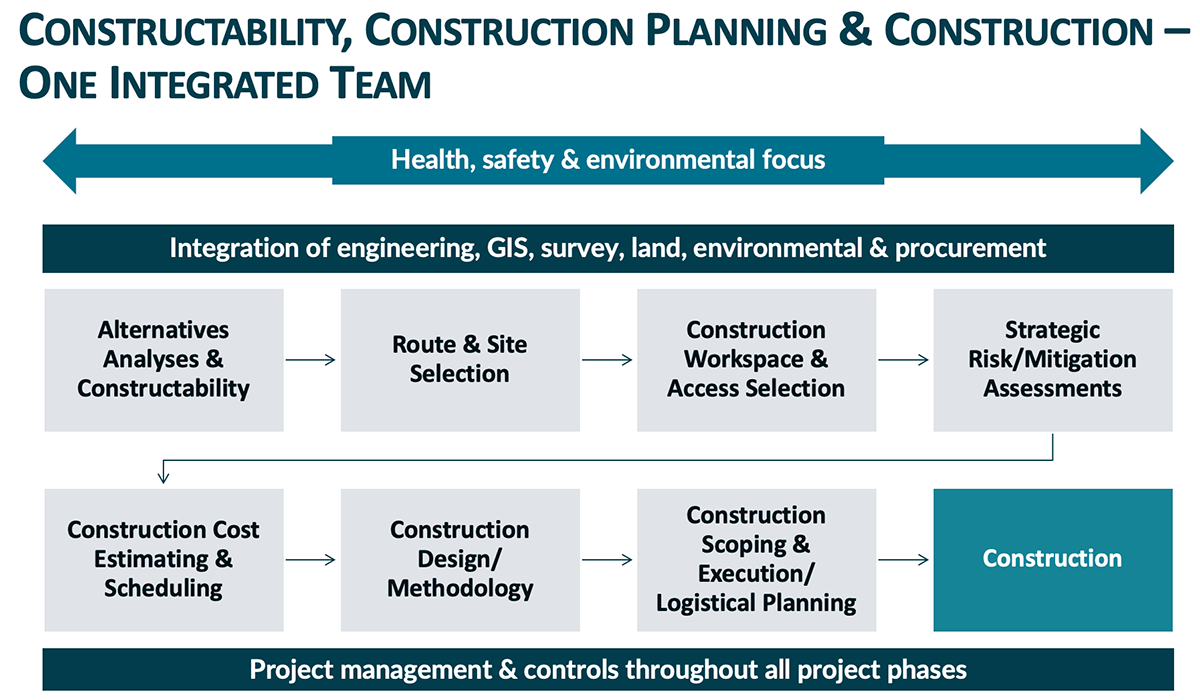 Engineering & Design
Troy provides engineering and design services for a wide range of project types. Key highlights are as follows:
Safety in Design
Value Engineering
Integration with Constructability and Field Survey Services
Interfacing with Right-of-Way and Environmental Disciplines
Pre-FEED, FEED and Detailed Designs
Automated Digital Tools and Design Processes
GIS, Mapping & Drafting
Troy provides industry-leading GIS services, with an automated GIS Viewer to allow full visibility of all geospatial and mapping elements. Our system is integrated with project controls and document/data management and includes concise, customizable dashboards for clients, stakeholders and team personnel. Our mapping and drafting processes are highly automated with field constructability, survey and GIS functions.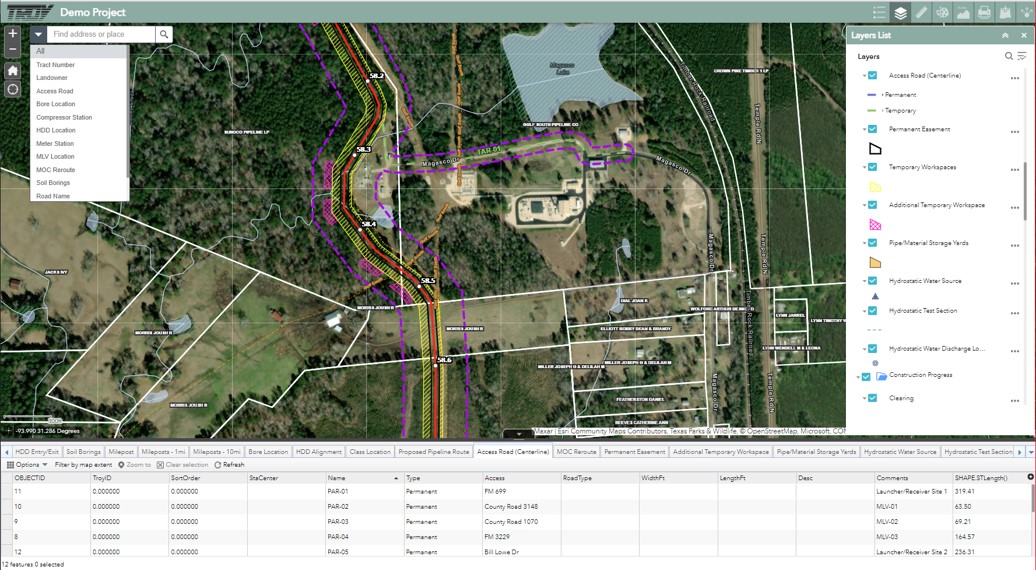 Procurement
Our procurement systems are beneficial in optimizing quality, schedule, cost, and safety performance. The following are specific components of our procurement offerings:
RFQ/Bid Packages and Evaluations
Purchase Order/Contract Packages
Expediting/Tracking Methodologies
Logistics Specialization
Material Traceability
Integration with Pre-construction Planning and Construction Phase
Construction
Troy provides top-rated construction services in the following areas:
Integration of Survey, Land & Environmental Services
Troy personnel are highly knowledgeable and experienced in integrating survey, environmental/cultural resources, and right-of-way/land acquisition services into project execution. We manage and coordinate these processes in-house and incorporate the services of specialty subcontractor partners based on the needs of each project. Our digital strengths provide differentiated advantages for all disciplines. Key highlights are as follows:
Civil Survey: Automation with constructability, GIS, mapping and drafting functions
Environmental/Cultural Resources: Management and coordination of research and agency consultation, field surveys, permitting and mitigation activities
Right-of-way/Land Acquisition: Management and coordination of landowner research, survey permission, title procurement, acquisition, road/railroad crossing permitting and construction support services
LEG
Client:
Williams
Location:
LA
160 miles of pipeline (33 miles of 36-inch and 127 miles of 42-inch)
Constructability/route selection, engineering, GIS/mapping, drafting
GAP East
Client:
TCLI
Location:
LA
42 miles of 36-inch pipeline
Engineering, constructability support, GIS/mapping, drafting, survey, procurement support
Confidential
Client:
Confidential
Location:
LA
Large diameter pipeline
Engineering, constructability support, GIS/mapping, drafting, survey, procurement support
Confidential
Client:
Confidential
Location:
TX and LA
Large diameter pipeline
Project management/controls, engineering, GIS/mapping, drafting, constructability, procurement, integration for survey, land & environmental
Confidential
Client:
Confidential
Location:
TX and LA
Large diameter pipeline
Engineering, constructability/route selection, GIS/mapping, drafting
Clean Works
Client:
EnLink
Location:
LA
6 miles of 30-inch pipeline
Engineering, constructability, GIS/mapping, drafting, survey, ROW/land, environmental/permitting
2024 Capital Scoping
Client:
Southern Star
Location:
Various
Eight 2024 capital expenditure projects
Scoping services
Confidential Pre-FEED
Client:
Confidential
Location:
TX and LA
Large diameter pipeline
Pre-FEED Evaluation: CAPEX estimate, project schedule, constructability, GIS, environmental/cultural resources evaluation, risk register
Confidential Pre-FEED
Client:
Confidential
Location:
TX
Large diameter pipeline
Pre-FEED Evaluation: CAPEX estimate, project schedule, constructability, GIS, environmental/cultural & land/right-of-way evaluations, risk register
Confidential Pre-FEED
Client:
Confidential
Location:
TX
Large diameter pipeline
Pre-FEED Evaluation: pipeline engineering & construction estimate, project schedule, risk register, routing/constructability evaluation and GIS/mapping
Confidential Pre-FEED
Client:
Confidential
Location:
TX
Large diameter pipeline
Pre-FEED Evaluation: CAPEX estimate, project schedule, constructability, GIS, environmental/cultural & land/right-of-way evaluations, risk register
Confidential Pre-FEED
Client:
Confidential
Location:
TX and LA
Large diameter pipeline
Pre-FEED Evaluation: CAPEX estimate, project schedule, constructability, GIS, environmental/cultural resources evaluation, risk register
Confidential Pre-FEED
Client:
Confidential
Location:
TX
Large diameter pipeline
Pre-FEED Evaluation: CAPEX estimate, project schedule, desktop routing/constructability evaluation, GIS, environmental/cultural resources evaluation, land/ROW evaluation, risk register
Confidential Pre-FEED
Client:
Confidential
Location:
LA
Small diameter pipelines, pump station, meter station
Pre-FEED Evaluation: CAPEX estimate, project schedule, desktop routing/constructability evaluation, GIS, environmental evaluation, risk evaluation, project execution plan
Confidential Pre-FEED
Client:
Confidential
Location:
LA
Large diameter pipeline
Pre-FEED Evaluation: CAPEX estimate, project schedule, constructability, GIS, environmental/cultural permitting matrix, risk register, contracting strategy